As the title says, I've gone through and done the ground work for adding custom ScrollBars to a ScrolledPanel. It's far from perfection, but I'm sure some of you wx gurus can make this complete.
I've dubbed the class 'SuperScrolledWindow' (not a great name), but it's essentially a sub-classed ScrolledPanel. I add the ScrolledPanel in some nested sizers which are surrounded by vertical and horizontal wx.Windows. I paint the ScrollBars in these windows based on calculated scroll positions and such.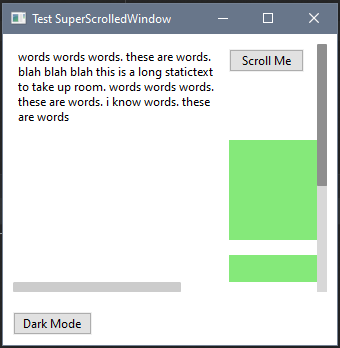 Key Features
Same setup functionality as ScrolledPanel (e.g. enable/disable vertical/horizontal scrolling)
You have to create the SuperScrolledWindow then call .get_panel() to get the ScrolledPanel you want to add widgets to.
Call .setup() after adding your widgets to init the ScrollBars (just like ScrolledPanel).
The ScrollBars auto-hide when the client area is large enough.
The ScrollBars are distinguishable when hovering over them.
You can click and drag the bars.
You can use a mouse wheel inside the scrollbar area to properly scroll the panel.
The ScrollBar colors are based on the ScrolledPanel background color. A green background would give you green-tinted ScrollBars.
TODO
Fix bar size calculations. I added some extra length to them so they would most often appear to reach the bottom/right sides.
Add better logic for click-and-drag on the bars so they don't jump around so much.
Add auto-hide/show when entering and leaving the ScrolledPanel area. Couldn't figure out the correct bindings.
I plan on implementing this on other scroll-able controls such as TextCtrl, ListView, TreeView, etc. I'm trying to offer a complete dark mode in my app, and the scrollbars are the last touch.
I would love to hear any suggestions and improvements! Hopefully my code comments explain everything.
"""
SuperScrolledWindow

wxPython 4.1.1
Python 3.7
Windows 10
"""

import wx
from wx.lib.scrolledpanel import ScrolledPanel


class SuperScrolledWindow(wx.Window):
    """
    SuperScrolledWindow
     - A hacky attempt at replacing native scrollbars.
     - This is the general layout of the window.
        w = ScrolledPanel
        v = Vertical Scrollbar area
        h = Horizontal Scrollbar area
         ______
        | w | |
        |___|v|
        |_h_|_|

    :param parent: wx.Window
    :param wid: window ID
    :param pos: tuple
    :param size: tuple
    :param: style: wx.TAB_TRAVERSAL + whatever else
    :param name: window name
    """
    def __init__(self, parent: wx.Window, wid=wx.ID_ANY, pos=wx.DefaultPosition, size=wx.DefaultSize,
                 style=wx.TAB_TRAVERSAL, name="SuperScrolledWindow"):
        super(SuperScrolledWindow, self).__init__(parent=parent, id=wid, pos=pos, style=style, size=size, name=name)
        # Attributes
        self.rate_x = 20
        self.rate_y = 20
        self._vbar_w = 10
        self._vbar_h = 0
        self._vscroll_hover = False
        self._hbar_h = 10
        self._hbar_w = 0
        self._hscroll_hover = False

        # Colors - updated in .setup() based on ScrolledPanel background color
        self._colour_normal = parent.GetBackgroundColour()
        self._colour_hover = wx.Colour(self._colour_normal).ChangeLightness(ialpha=115)
        self._colour_bar = "#8a8a8a"
        self._colour_bar_hover = wx.Colour(self._colour_bar).ChangeLightness(ialpha=115)

        # Base Sizer
        self._sizer_meta = wx.BoxSizer(wx.HORIZONTAL)
        self.SetSizer(self._sizer_meta)

        # ScrolledPanel - hide the native scrollbars
        self._scrolled_panel = ScrolledPanel(parent=self)
        self._scrolled_panel.ShowScrollbars(horz=wx.SHOW_SB_NEVER, vert=wx.SHOW_SB_NEVER)

        # Vertical Scrollbar
        self._vscroll = wx.Window(parent=self, name='vscroll', size=(self._vbar_w, self.GetSize()[1]))
        self._vscroll.SetBackgroundStyle(wx.BG_STYLE_PAINT)

        # Horizontal Scrollbar
        self._hscroll = wx.Window(parent=self, name='hscroll', size=(self.GetSize()[0], self._hbar_h))
        self._hscroll.SetBackgroundStyle(wx.BG_STYLE_PAINT)

        # Main Sizer that holds the internal ScrolledPanel
        self._sizer_main = wx.BoxSizer(wx.VERTICAL)
        self._sizer_meta.Add(self._sizer_main, proportion=1, flag=wx.EXPAND)
        # Add the ScrolledPanel
        self._sizer_main.Add(self._scrolled_panel, proportion=1, flag=wx.EXPAND)
        # Add Horzontal Scrollbar below ScrolledPanel
        self._sizer_main.Add(self._hscroll, proportion=0, flag=wx.EXPAND)
        # Add Vertical Scrollbar to the right of the ScrolledPanel. This arrangement expands the VScroll to the
        # entire height of the client area.
        self._sizer_meta.Add(self._vscroll, proportion=0, flag=wx.EXPAND)

    def __calc_bar_sizes(self):
        v = ((self._vscroll.GetClientSize()[1] / self._scrolled_panel.GetVirtualSize()[1]) *
             self._vscroll.GetClientSize()[1]) + self._hbar_h + self.rate_y

        h = ((self._hscroll.GetClientSize()[0] / self._scrolled_panel.GetVirtualSize()[0]) *
             self._hscroll.GetClientSize()[0]) + self._vbar_w + self.rate_x

        self._vbar_h = max(v, self.rate_y)
        self._hbar_w = max(h, self.rate_x)

        self._vscroll.Refresh()
        self._hscroll.Refresh()

    def __on_scrollwin(self, event):
        if event.GetOrientation() == wx.VERTICAL and self._vscroll.IsShown() and self._vscroll.IsEnabled():
            self._vscroll.Refresh()

        elif event.GetOrientation() == wx.HORIZONTAL and self._hscroll.IsShown() and self._hscroll.IsEnabled():
            self._hscroll.Refresh()

        event.Skip()

    def __on_paint(self, event):
        # Get the scrollbars' x and y positions in relation to the size of the scrollbar sizes
        x, y = self._scrolled_panel.CalcScrolledPosition(self._scrolled_panel.GetViewStart())
        y = y*-1*(self._scrolled_panel.GetClientSize()[1] / self._scrolled_panel.GetVirtualSize()[1])
        x = x*-1*(self._scrolled_panel.GetClientSize()[0] / self._scrolled_panel.GetVirtualSize()[0])

        if event.EventObject == self._vscroll and self._vscroll.IsShown() and self._vscroll.IsEnabled():
            dc = wx.BufferedPaintDC(self._vscroll)
            dc.Clear()
            dc = wx.GCDC(dc)

            if not self._vscroll_hover:
                dc.SetPen(wx.Pen(self._colour_bar, 1, wx.PENSTYLE_TRANSPARENT))
                dc.SetBrush(wx.Brush(self._colour_bar, wx.BRUSHSTYLE_SOLID))

            else:
                dc.SetPen(wx.Pen(self._colour_hover, 1, wx.PENSTYLE_TRANSPARENT))
                dc.SetBrush(wx.Brush(self._colour_hover, wx.BRUSHSTYLE_SOLID))
                # Highlight scrollbar background
                dc.DrawRectangle(x=0, y=0, width=self._vbar_w, height=self._vscroll.GetSize()[1])

                dc.SetPen(wx.Pen(self._colour_bar_hover, 1, wx.PENSTYLE_TRANSPARENT))
                dc.SetBrush(wx.Brush(self._colour_bar_hover, wx.BRUSHSTYLE_SOLID))

            # Draw the bar
            dc.DrawRoundedRectangle(x=0, y=y, width=self._vbar_w, height=self._vbar_h, radius=1)

        elif event.EventObject == self._hscroll and self._hscroll.IsShown() and self._hscroll.IsEnabled():
            dc = wx.BufferedPaintDC(self._hscroll)
            dc.Clear()
            dc = wx.GCDC(dc)

            if not self._hscroll_hover:
                dc.SetPen(wx.Pen(self._colour_bar, 1, wx.PENSTYLE_TRANSPARENT))
                dc.SetBrush(wx.Brush(self._colour_bar, wx.BRUSHSTYLE_SOLID))

            else:
                dc.SetPen(wx.Pen(self._colour_hover, 1, wx.PENSTYLE_TRANSPARENT))
                dc.SetBrush(wx.Brush(self._colour_hover, wx.BRUSHSTYLE_SOLID))
                # Highlight scrollbar background
                dc.DrawRectangle(x=0, y=0, width=self._hscroll.GetSize()[0], height=self._hbar_w)

                dc.SetPen(wx.Pen(self._colour_bar_hover, 1, wx.PENSTYLE_TRANSPARENT))
                dc.SetBrush(wx.Brush(self._colour_bar_hover, wx.BRUSHSTYLE_SOLID))

            dc.DrawRoundedRectangle(x=x, y=0, width=self._hbar_w, height=self._hbar_h, radius=1)

        event.Skip()

    def __on_mouse(self, event: [wx.MouseEvent, wx.Event]):
        mx, my = event.GetPosition()
        if event.EventObject == self._vscroll:
            if self._vscroll.IsEnabled() and self._vscroll.IsShown():
                if event.LeftIsDown():
                    self._vscroll_hover = True
                    if not self._vscroll.HasCapture():
                        # Capture the mouse to retain dragging outside scrollbar area
                        self._vscroll.CaptureMouse()
                    # Get the position of the mouse relative to the virtual size of the main window
                    y = my*(self._scrolled_panel.GetVirtualSize()[1] / self._vscroll.GetClientSize()[1])
                    # Convert pixels to units by dividing by the scroll rate
                    self._scrolled_panel.Scroll(-1, y // self.rate_y)

                elif event.LeftUp():
                    if mx < 0 or mx > self._vbar_w or my < 0 or my > self._vscroll.GetClientSize()[1]:
                        self._vscroll_hover = False
                    if self._vscroll.HasCapture():
                        # Release the mouse when left-click goes up
                        self._vscroll.ReleaseMouse()

                elif event.GetWheelRotation() > 0:
                    # Scroll down by 3 units
                    # (This is the same number of units as a scrolling in the window. Don't know why.)
                    self._scrolled_panel.Scroll(-1, max(0, self._scrolled_panel.GetViewStart()[1] - 3))

                elif event.GetWheelRotation() < 0:
                    # Scroll up by 3 units
                    self._scrolled_panel.Scroll(-1, self._scrolled_panel.GetViewStart()[1] + 3)

                self._vscroll.Refresh()

        elif event.EventObject == self._hscroll:
            if self._hscroll.IsEnabled() and self._hscroll.IsShown():
                # Get the position of the mouse relative to the virtual size of the main window
                x = mx*(self._scrolled_panel.GetVirtualSize()[0] / self._hscroll.GetClientSize()[0])
                if event.LeftIsDown():
                    self._hscroll_hover = True
                    if not self._hscroll.HasCapture():
                        self._hscroll.CaptureMouse()
                    # Convert pixels to units by dividing by the scroll rate
                    self._scrolled_panel.Scroll(x // self.rate_x, -1)

                elif event.LeftUp():
                    if my < 0 or my > self._hbar_h or mx < 0 or mx > self._hscroll.GetClientSize()[0]:
                        self._hscroll_hover = False
                    if self._hscroll.HasCapture():
                        self._hscroll.ReleaseMouse()

                elif event.GetWheelRotation() > 0:
                    # Scroll right by 3 units
                    self._scrolled_panel.Scroll(self._scrolled_panel.GetViewStart()[0] + 3, -1)

                elif event.GetWheelRotation() < 0:
                    # Scroll up left 3 units
                    self._scrolled_panel.Scroll(max(0, self._scrolled_panel.GetViewStart()[0] - 3), -1)

                self._hscroll.Refresh()

        event.Skip()

    def __on_size(self, event):
        if self._vscroll.IsEnabled():
            # Show/Hide Vertical Scrollbar
            if self._scrolled_panel.GetVirtualSize()[1] <= self.GetClientSize()[1]:
                self._vscroll.Show(False)
            else:
                self._vscroll.Show(True)

        if self._hscroll.IsEnabled():
            # Show/Hide Horizontal Scrollbar
            if self._scrolled_panel.GetVirtualSize()[0] <= self.GetClientSize()[0]:
                self._hscroll.Show(False)
            else:
                self._hscroll.Show(True)

        wx.CallAfter(self.__calc_bar_sizes)
        event.Skip()

    def __on_enter_window(self, event):
        if event.EventObject == self._vscroll:
            if self._vscroll.IsEnabled() and self._vscroll.IsShown():
                self._vscroll_hover = True
                self._vscroll.Refresh()

        elif event.EventObject == self._hscroll:
            if self._hscroll.IsEnabled() and self._hscroll.IsShown():
                self._hscroll_hover = True
                self._hscroll.Refresh()

        event.Skip()

    def __on_leave_window(self, event):
        if event.EventObject == self._vscroll:
            if self._vscroll.IsEnabled() and self._vscroll.IsShown():
                self._vscroll_hover = False
                self._vscroll.Refresh()

        elif event.EventObject == self._hscroll:
            if self._hscroll.IsEnabled() and self._hscroll.IsShown():
                self._hscroll_hover = False
                self._hscroll.Refresh()

        event.Skip()

    def __update_colors(self):
        self._colour_normal = self._scrolled_panel.GetBackgroundColour()

        if wx.Colour(self._colour_normal).GetLuminance() >= 0.5:
            self._colour_bar = wx.Colour(self._colour_normal).ChangeLightness(ialpha=80)
            self._colour_bar_hover = wx.Colour(self._colour_bar).ChangeLightness(ialpha=70)
            self._colour_hover = wx.Colour(self._colour_normal).ChangeLightness(ialpha=85)
        else:
            self._colour_bar = wx.Colour(self._colour_normal).ChangeLightness(ialpha=120)
            self._colour_bar_hover = wx.Colour(self._colour_bar).ChangeLightness(ialpha=130)
            self._colour_hover = wx.Colour(self._colour_normal).ChangeLightness(ialpha=115)

        self.SetBackgroundColour(self._colour_normal)
        self.SetForegroundColour(self._scrolled_panel.GetForegroundColour())
        self._hscroll.SetBackgroundColour(self._colour_normal)
        self._vscroll.SetBackgroundColour(self._colour_normal)

    def scroll(self, x: int, y: int):
        """
        Overloaded function to scroll to a given point. This is in units, not pixels.

        :param x: units in horizontal direction
        :param y, units in vertical direction.
        """
        self._scrolled_panel.Scroll((x, y))
        self._vscroll.Refresh()
        self._hscroll.Refresh()

    def get_panel(self) -> ScrolledPanel:
        """
        Get the ScrolledPanel object to place all widgets.
        """
        return self._scrolled_panel

    def set_panel_colors(self, bg: [str, wx.Colour] = None, fg: [str, wx.Colour] = None):
        """
        Set the panel background and foreground colors. This will update the scrollbar colors.

        :param bg: background color
        :param fg: foreground color
        """
        if bg is not None:
            self._scrolled_panel.SetBackgroundColour(bg)

        if fg is not None:
            self._scrolled_panel.SetForegroundColour(fg)

        self.__update_colors()
        self.Update()
        self.Refresh()

    def setup(self, scroll_x=True, scroll_y=True, rate_x=20, rate_y=20, scroll_to_top=True, scroll_into_view=False):
        """
        Setup up the Scrollbars after adding widgets. Same inputs as ScrolledPanel.SetupScrolling().

        :param scroll_x: Enable horizontal scrolling
        :param scroll_y: Enable vertical scrolling
        :param rate_x: Horizontal scroll rate
        :param rate_y: Vertical scroll rate
        :param scroll_to_top: Scroll to the top left after initialization
        :param scroll_into_view: Scroll children into view when activated
        """
        self.rate_x = rate_x
        self.rate_y = rate_y

        if not scroll_x:
            self._hscroll.Enable(enable=False)
            self._hscroll.Show(show=False)

        if not scroll_y:
            self._vscroll.Enable(enable=False)
            self._vscroll.Show(show=False)

        # Setup Scrollbars
        self._scrolled_panel.EnableScrolling(xScrolling=scroll_x, yScrolling=scroll_y)
        self._scrolled_panel.SetupScrolling(scroll_x=scroll_x, scroll_y=scroll_y, rate_x=rate_x, rate_y=rate_y,
                                            scrollToTop=scroll_to_top, scrollIntoView=scroll_into_view)

        # Update Colors
        self.__update_colors()

        # Binds
        self.Bind(event=wx.EVT_SIZE, handler=self.__on_size)
        self._scrolled_panel.Bind(event=wx.EVT_SCROLLWIN, handler=self.__on_scrollwin)
        self._vscroll.Bind(event=wx.EVT_PAINT, handler=self.__on_paint)
        self._hscroll.Bind(event=wx.EVT_PAINT, handler=self.__on_paint)
        self._vscroll.Bind(event=wx.EVT_MOUSE_EVENTS, handler=self.__on_mouse)
        self._hscroll.Bind(event=wx.EVT_MOUSE_EVENTS, handler=self.__on_mouse)
        self._vscroll.Bind(event=wx.EVT_ENTER_WINDOW, handler=self.__on_enter_window)
        self._hscroll.Bind(event=wx.EVT_ENTER_WINDOW, handler=self.__on_enter_window)
        self._vscroll.Bind(event=wx.EVT_LEAVE_WINDOW, handler=self.__on_leave_window)
        self._hscroll.Bind(event=wx.EVT_LEAVE_WINDOW, handler=self.__on_leave_window)

        wx.CallAfter(self.__calc_bar_sizes)


if __name__ == '__main__':
    class TestFrame(wx.Frame):
        def __init__(self, parent=None, title='Test SuperScrolledWindow', style=wx.DEFAULT_FRAME_STYLE):
            super(TestFrame, self).__init__(parent=parent, title=title, style=style, size=(350, 350))

            # Frame setup
            self.SetBackgroundColour("#FFFFFF")
            sizer = wx.BoxSizer(wx.VERTICAL)
            self.SetSizer(sizer)

            # SuperScrolledWindow
            self.ssw = SuperScrolledWindow(parent=self)
            sizer.Add(self.ssw, proportion=1, flag=wx.EXPAND | wx.ALL, border=10)

            # Get ScrolledPanel and add stuff
            self.panel = self.ssw.get_panel()
            self.panel.SetBackgroundColour("#FFFFFF")
            self.panel.SetForegroundColour("#000000")
            self.main_sizer = wx.GridBagSizer(vgap=5, hgap=5)
            self.panel.SetSizer(self.main_sizer)

            self.init_panel()

            # Setup up scrolling
            self.ssw.setup(scroll_x=True, scroll_y=True, rate_x=20, rate_y=20, scroll_to_top=True,
                           scroll_into_view=False)

            # Add a pointless button on the frame
            self._mode = 'light'
            self._btn_mode = wx.Button(parent=self, label='Dark Mode', name='mode')
            sizer.Add(self._btn_mode, flag=wx.ALL, border=10)

            self.Layout()
            self.Fit()
            self.SetInitialSize((350, 350))

            self.Bind(event=wx.EVT_BUTTON, handler=self.__on_button)

        def __on_button(self, event):
            if event.EventObject.GetName() == "scroll_me":
                self.ssw.scroll(x=20, y=20)

            elif event.EventObject.GetName() == 'mode':
                if self._mode == 'light':
                    self._btn_mode.SetLabel(label='Light Mode')
                    self._mode = 'dark'
                    self.ssw.set_panel_colors(bg="#212121", fg="#FFFFFF")
                else:
                    self._btn_mode.SetLabel(label='Dark Mode')
                    self._mode = 'light'
                    self.ssw.set_panel_colors(bg="#FFFFFF", fg="#000000")

            event.Skip()

        def init_panel(self):
            """
            Add stuff...
            """
            text1 = wx.StaticText(parent=self.panel, label="words words words. these are words. blah blah blah "
                                                           "this is a long statictext to take up room. words words "
                                                           "words. these are words. i know words. these are words")
            text1.Wrap(200)
            self.main_sizer.Add(text1, pos=(0, 0), flag=wx.ALL, border=5)

            btn1 = wx.Button(parent=self.panel, label="Scroll Me", name="scroll_me")
            self.main_sizer.Add(btn1, pos=(0, 1), flag=wx.ALL, border=5)

            for x in range(4):
                for y in range(4):
                    p = wx.Panel(parent=self.panel, size=(100, 100))
                    p.SetBackgroundColour("#85e97a")
                    self.main_sizer.Add(p, pos=(x+1, y+1), flag=wx.ALL, border=5)

            self.panel.Layout()

    app = wx.App(False)
    frame = TestFrame()

    frame.Show()

    app.MainLoop()
    app.ExitMainLoop()
    app.Destroy()