Hi,
I need to draw a .png image with transparency on the top of a normal .jpg image. I have looked it up and I have to use wx.PaintDC binded to wx.EVT_PAINT event. The problem is my program needs that "base image .jpg" to be in a sizer so it doens't fill the entire frame and to show a panel on the left side.
Example of my actual program. That left panel can be showed or hided: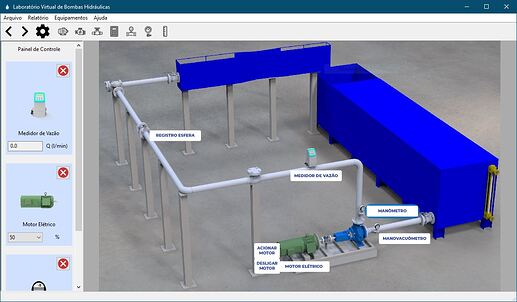 Furthermore, the images needs to have the ability to scale itself and be replaced.
The image with the transparency will be some mascot with a text baloon on top of the base image, which will suposelly help the students how to operate the program.
How can I achieve this?
The only image control which I know of that can be inside a sizer is a wx.StaticBitmap, but when drawn with wx.PaintDC (so it can have transparency), it seems to disrespect the boundaries of the sizer. The image glitches even more when I manually resize the window. Here's my minimal code so far.
Thank you!
import wx

class Test(wx.Panel):
    def __init__(self, parent):
        super().__init__(parent)

        self.base = wx.StaticBitmap(self, -1)
        self.png = wx.StaticBitmap(self.base, -1)

        self.base.SetBitmap(wx.Bitmap('base_image.jpg', wx.BITMAP_TYPE_ANY))
        self.png.SetBitmap(wx.Bitmap('transparent_image.png', wx.BITMAP_TYPE_PNG))

        self.initSizers()
        self.Bind(wx.EVT_PAINT, self.OnPaint)

    def initSizers(self):
        master = wx.BoxSizer(wx.HORIZONTAL)
        left = wx.BoxSizer(wx.VERTICAL)
        right = wx.BoxSizer(wx.VERTICAL)

        left.Add(wx.StaticText(self, -1, 'aaaaaaaaaaaaaa'))
        right.Add(self.base)

        master.Add(left)
        master.Add(right)
        self.SetSizer(master)

    def OnPaint(self, e):
        dc = wx.PaintDC(self)

        dc.DrawBitmap(self.base.GetBitmap(), 0, 0, True)
        dc.DrawBitmap(self.png.GetBitmap(), 0, 0, True)

class Frame(wx.Frame):
    def __init__(self, parent):
        super().__init__(parent)
        Test(self).Show()

app = wx.App()
Frame(None).Show()
app.MainLoop()